This is an example of the first screen you will see when looking up tickets and journey details on the PC version of the Oui.SNCF ticket booking website.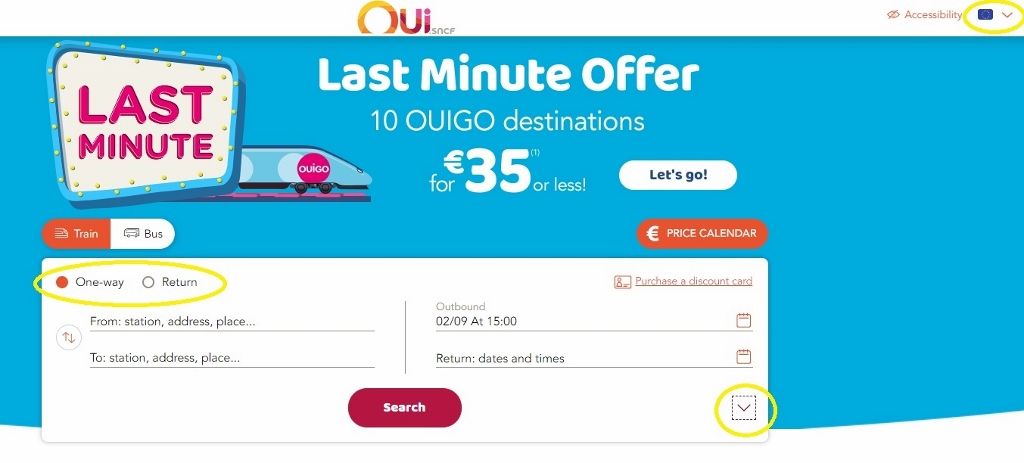 Note that the home page promotion, in this instance 'Last Minute tickets for journeys by Ouigo services', is constantly changing, so you will see something different.
But what won't change is the core search box, which you will use to look up a journey.
The three key features which have been highlighted above, are:
Note the flag at top right - showing that this is the E.U version of the site - you can click on the flags so select the other versions.
2. The default is for looking up a one-way journey, so you will need to be proactive and change this, if you will be booking a return journey.
3. The circled arrow in the bottom right gives access to further search options.
using the further search options:
If you click this arrow you will see these additional potentially highly useful facilities.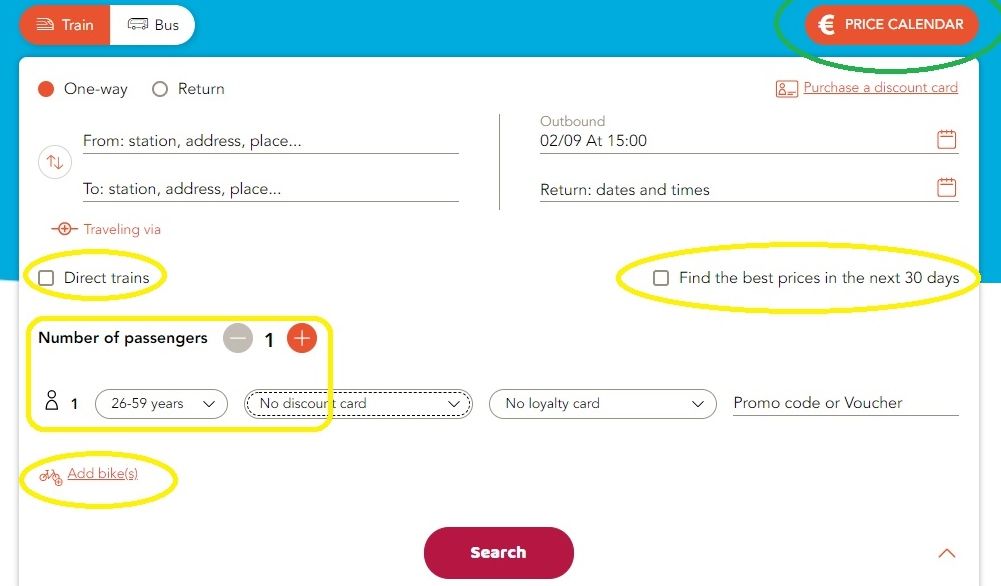 The four particularly useful features which have been highlighted above are;
1. The 'Direct train' filter box
If you know that there is a fairly regular service of direct trains on the route you want to take (you can check this on our journey guides) and they're your preference, then tick this box.
You'll then only see direct trains on the search results, so you won't have to scan to seek them out.
If you do tick this and there are in fact no direct trains between the destinations you have selected, the system will ignore its selection and still show the journey options which are available.
2. 'Find the best prices in the next 30 days':
Oui.SNCF does go the extra mile to help its customers book at the cheapest possible price, so if you can only choose departures a couple of days either side of your first choice date, then use this facility.
However, if you can be more flexible with your travel dates and want to travel at the cheapest possible price, ShowMeTheJourney's preference is to use the Price Calendar facility - which has been circled in green.
More info about using this is available below.
3. There is a home page facility for adding additional passengers to a booking - the prices you will then see on the journey search results will show the total cost of purchasing tickets for all those in your travelling party.
Note that on the far left drop-down menu, you can stipulate the type of passenger who will be travelling; children, seniors etc.
4. If you want to take a bike (folding or standard) on to the train with you, you can use this facility to add it to your booking.
If you take a non-folding bike onto a long distance Intercités service, or a TGV service (not available on all departures) there is a flat rate bike reservation charge of €10.
On the journey search results, the prices you will then see should include this fee.
Ideally only click the 'Search' button to move on the journey selection stage, when you have chosen and double-checked all the options that suit you; though you can amend them later without returning to this Journey Search page.
On the French language version
However, as can be seen below, two further potentially useful additional search options are only available on the French language version of the website.

As can be seen, if you will need to travel by trains with wheelchair spaces, you can ensure that only journey options that facilitate this will be shown on the search results - and discover if your journey is possible.
2. Whether a dog can accompany you on a train journey varies across France, so by using this facility you can ensure that only compatible trains will feature on the search results.
If either of these two journey criteria are important to you, then it can be worthwhile pursuing with making a booking on the French language version of Oui.SNCF - though also open up a version of the site in your own language, as this will help with translating the info and instructions et