Not quite, rail passes aren't valid on the high speed trains operated by Italo and on a few local networks of the Regionale trains
IF you avoid the fast 'Frecce' trains you can hop any of the trains provided by the main national rail operator, Trenitalia.
Rail pass reservations are available, but optional on the InterCity (IC) trains, but when travelling long-distance on these trains, ShowMeTheJourney highly recommends making a reservation for two reasons:
(1) These can be busy trains, particularly in the summer
(2) When boarding there's no way of knowing whether seats will or won't be available, so there's a high chance you'll have to move seats (multiple times) if a seat is claimed by a ticket holder.
You can hop on and off *nearly all of the Regionale (R/REG) and Regionale Veloce (RGV/RV) trains without having to bother with making reservations prior to boarding.
*What's becoming slightly awkward is that a few Regionale train services are now operated by regional government organisations instead of the national rail operator, Trenitalia and when that is the case rail passes aren't valid.
It's particularly worth being aware of this if you will be taking local trains to/from Bari, Bolzano and Trento.
Because seats can't be reserved on the on these two types of Regionale services (R and RV) they can be crowded in summer and around holidays, so if you'll be joining these trains at a city station, it's worth being at the station before boarding will commence.
A big plus of the Regionale Veloce (RGV/RV) services in particular is that they can cover relatively long distances.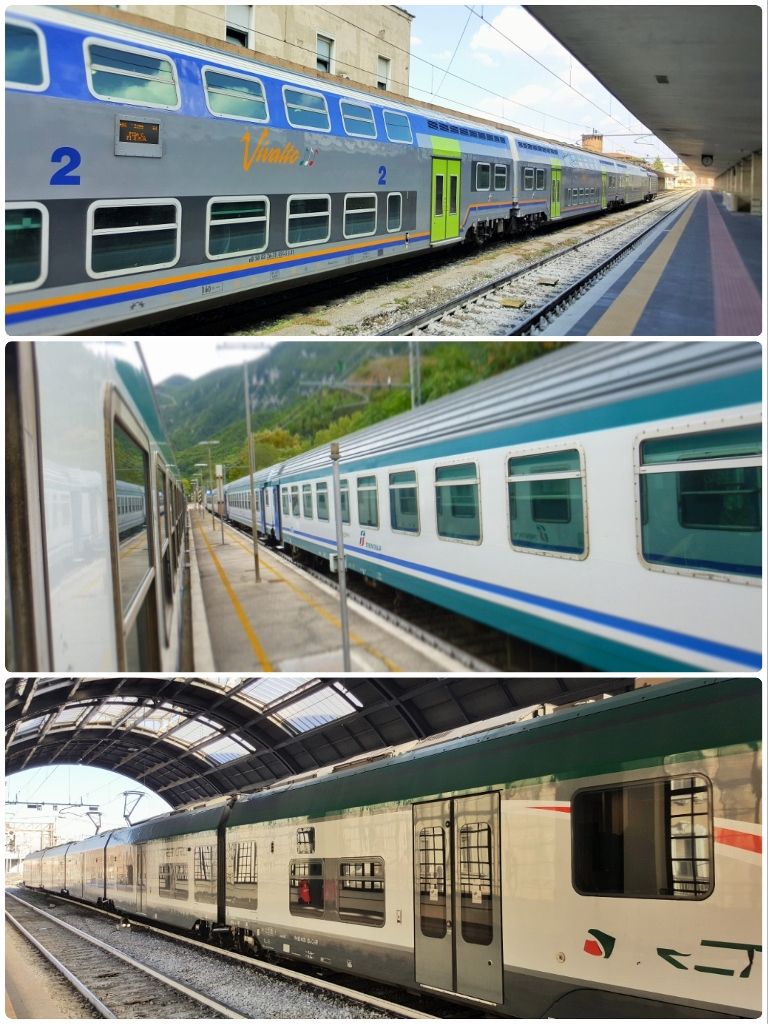 Popular routes taken by Regionale Veloce (RV) trains:
On these routes the RV train services provide an alternative to paying reservation fees on the Frecce or EC trains.
(1) Milano - Arona - Stresa - Domodossola*
(2) Milano - Como - Chiasso - Lugano - Locarno (operated by Ticino)
(4) Milano - Brescia - Desenzano del Garda - Peschiera de Garda - Verona*
(5) Venezia - Padova/Padua - Vicenza - Verona
Connect in Verona to travel Milano ↔ Venice/Venezia by Regionale Veloce trains
(6) Venezia - Padova/Padua - Rovigo - Ferrara - Bologna
(7) Bologna - Verona - Trento - Bolzano - Brennero (connect at Brennero for local trains to Innsbruck)
*routes operated by Trenord - rail passes are valid on Trenord trains.
On these routes the RV trains are more frequent than the IC trains AND also enable the Frecce services to be avoided.
(2) Milano - Piacenza - Parma - Modena - Bologna
(4) Piacenza - Parma - Modena - Bologna - Rimini
(5) Roma - Grosseto - Livorno - Pisa
(7) Roma - Ancona
(8) Roma - Arezzo - Firenze/Florence
(9) Messina - Palermo
Popular longer routes taken by slower Regionale (R/REG) trains:
(1) Genova/Genoa - Albenga - San Remo - Ventimiglia (connect for local trains towards Nice in France)
(2) Genova - Sestri Levant - Monterosso (for the Cinque Terre) - La Spezia
(3) Firenze/Florence - Pisa - La Spezia or Livorno
(4) Firenze/Florence - Siena
(5) Firenze/Florence - Arezzo - Perugia - Assisi - Foligno
(6) Roma - Napoli/Naples
(7) Milano - Tirano (connect for RhB trains into Switzerland)